Tashkent hotels
Welcome to Tashkent hotels reservation service. Tashkent-hotels.com provides convenient mean to book hotels in Tashkent. Review Tashkent hotels features, compare prices and book suitable for you hotel over our site in Internet.
Tashkent offers a great range of hotels: from luxurious five and four star hotels to small private hotels. In Tashkent you will find hotels belonging to Radisson and Dedeman International hotel chains. Also there is Intercontinental Hotel, which is the only five-star hotel in Uzbekistan. Five and four star Tashkent hotels offer well equipped rooms and provide a wide choice of services. The service in the hotels coincides with the international standards. They are located in the central part of the city. Three star hotels are situated close to the Tashkent International Airport. Small private hotels in Tashkent attract with homelike atmosphere, coziness and low prices as well. In spite of low prices in small Tashkent hotels, they provide good service and clean, furnished rooms. In addition, as a rule in such small hotels you can agree on a discount for the room, because administration in such hotels is more flexible and has individual approach to every client.
Featured Hotels in Tashkent
Ramada Tashkent Hotel
Ramada Tashkent Hotel
1, Abdulla Kodiriy street,Tashkent
The Ramada Tashkent hotel is located in the picturesque district of Tashkent by a small park which opens to view from the windows of upper floors. For the short time this hotel has build up a reputation of one of the best hotels in the city and always justifies the trust of clients.
Superior Single 120 USD
Superior Double 135 USD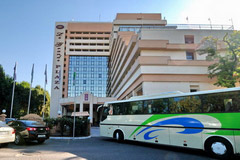 Le Grande Plaza Hotel
Le Grande Plaza Hotel
2, Uzbekiston Ovozi Street, Tashkent
Located in the center of Tashkent, Le Grande Plaza Hotel is distinguished by its friendly atmosphere and by the range of services offered to busines travelers. Its recently refurbished rooms and suites offer all the conveniences of an international Tashkent hotel, complemented with the widely known oriental hospitality, to satisfy the need of both business and leisure travelers.
0 USD