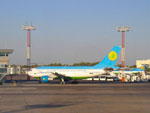 source: fotki.yandex.ru
For many guests, the acquaintance with Uzbekistan begins from the capital's airport "Tashkent". More than 30 years passed after it had been constructed, more than tens of millions of people have made use of its services during these years. At the same time it is constantly improved and expanded. In 1995 - 1996 a full reconstruction of terminal and runway was carried out. In 2001, another renovation took place - the airport was equipped with new equipment.
The Tashkent airport has two runways, "Southern" and "Northern" ones, which are capable of receiving aircraft of all types. It has deserved its international status. It is frequently used for transits from Europe to Asia by the well-known airlines such as "Lufthansa", "Turk Hava Yollari, "British Airways Mediterrenien", "Asia Airlines Inc.", "Korean Air", "Transaero", Aeroflot - Russian Airlines and many others.
In addition, the airport consists of main and taxiways, parking for 110 aircraft, including 4 ones right outside the terminal, which allows using air bridges.
However, due to the workload of the domestic flights, the increase in the fleet, it was decided to build a new airport in place of the contemporary's one. According to the projects, the construction will end in August 2011. Its capacity will increase from 450 to 900 people per hour, and it is only in the central terminal.
The construction will be phased and will not affect the operation of the airport in general. The new terminal will meet all European standards and will provide passengers a full range of services related to flights.