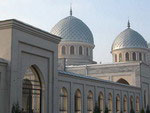 source: ast.uz
Uzbekistan is a secular state and under the Constitution of the Republic all religious organizations are equal before the law. To date, in the Republic of Uzbekistan officially registered are 2,231 religious organizations of 16 religious denominations.
Despite the fact that about 88% of the population professes Islam, Uzbekistan is not an Islamic state. About 9% of the people in the Republic are Christians,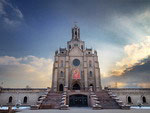 source: pixland.uz
and about 5% are Jews, Buddhists and representatives of other religious faiths.
Uzbekistan is the home to some 150 nations and nationalities and all of them areguaranteed freedom of religion, which is proved by the availability of Muslim mosques, Orthodox and Catholic churches, Jewish synagogues, houses of worship for Baptists and Adventists, Hare Krishna society and the Buddhist temple.