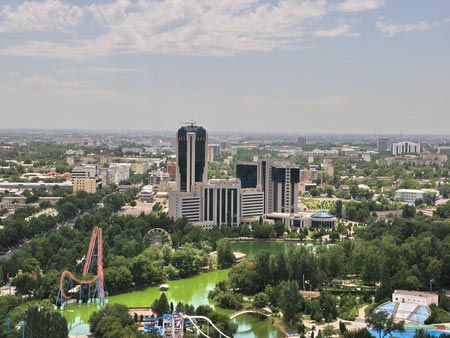 Tashkent is a capital of the Republic of Uzbekistan, the most populated city in Central Asia, a political, economic, cultural and scientific center of the country. According to official data, the population of Tashkent is about 2, 3 million people. This modern city is located in the north-eastern part of the country, in the foothills of the western Tyan Shan, valley of Chirchik, at the height of 440-480 meters above sea level. The history of modern Tashkent counts more than 2500 years.
In written sources, the name of the city was first reported in the beginning of the 11th century. According to Abu Rayhan Beruni, the word was originated from Turkic "Tash"("Stone") and "Kent"("City"). Thus, Tashkent means "Stone City". However, one assumes that the first component of this name is more ancient and dates back to "Chach," which was later transformed in "Tash" by Arabs, as there was no letter "H" in their language and script, and by Turks, because of the consonance of individual characters in Turk language.
The earliest mention of "Chach" dates back to 262 AD. Chach's Mountains, along with other areas of Central Asia, are mentioned in the inscriptions of King Shapur I (241-272) at the Kaaba of Zoroaster. Chach is assumed to be a truncated form of names Chacha or Chachani. It is shown in minted coins in this area in that form.
At various times many world-famous people lived in Tashkent. Russian writer, Nobel Prize winner Alexander Solzhenitsyn was being treated here, in Tashkent Medical University. Based on that experience, he wrote the novel "Cancer Ward". Faina Ranevskaya, a famous actress, lived in Tashkent in evacuation, Anna Akhmatova (she wrote here her famous "Poem Without a Hero"). Konstantin Simonov lived in Tashkent and worked as a correspondent of "Pravda" newspaper.
Tashkent is the only city in which representatives of from more than a hundred different nationalities live and work side by side. Mosques, churches, synagogues, Kostel, Lutheran church.
Of course, speaking of Tashkent, it is impossible not to mention its markets. Aromas of eastern spices, ripe fruits and vegetables, and hot lepeshkas will create the feeling that you're in Eastern tale. At the bazaar you can also find jewelry and painted children's cradles ("beshik"), gold embroidery, the national coffers decorated with ornaments made of metal, embroidered and quilted Suzane male chapans, carpets from Khiva, Samarkand and Bukhara, Afghanistan, Turkey.
Cultural life in Tashkent is full of interesting events. There are many theaters, a conservatory, museum, exhibition and concert halls, stadiums and swimming pools, cafes, restaurants and nightclubs in the capital. Tashkent is called a solar capital, and this epithet is originated not only in relation to climatic conditions, but also because the city is famous for its hospitality, guests are granted a warm welcome in Uzbekistan. Take a Tashkent tour and experience the local life.
Tashkent Video - More video about Tashkent
Uzbekistan Tours - Scheduled tours in Tashkent and other cities