Tashkent is the main city of Uzbekistan, the elegant capital and national pride of the Uzbek people. Indeed, rebuilt in the years of independence, the center of the Uzbek capital produces a very pleasant impression – the wide, smooth roads, modern high-risers in semi-Asiatic semi-European style, large areas of new housing estates, fashionable restaurants, shopping malls, large green parks, neat lawns, preserving the bright greens even in winter, Tashkent metro stations, decorated like halls of a huge underground palace, and whose décor is different from station to station, and so on.
Tashkent tours organized by local travel agencies will help you not only to see all the interesting places in the center and discover modern Tashkent, but old Tashkent too.
MOST POPULAR TOURSSee All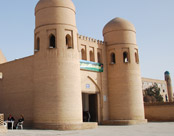 Tashkent Layover Tour
The Tashkent Layover Tour is the perfect way to make the best of a few hours of layover in Uzbekistan's capital.
See tour details
---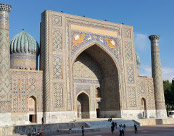 Tashkent City Tour
Learn about the old and the new of Uzbekistan's capital, Tashkent. This guided city tour will take you all around in one day.
See tour details
Even the city itself historically is divided into old and new part. On the one hand we see a face of a young, vibrant city, adapting to the rapid steps of time, and on the other hand – the less dynamically developing heart of Old Town, with echoes of the recent and distant history. And now, walking in Old Town, you will see narrow streets of wattle-and-daub makhallas (communities) with tardy flight of time, and residents wearing skullcaps and striped caftans, making such a contrast with the central part of Tashkent. During the tour to Tashkent, organized by a local travel agency, you will visit the religious center of old Tashkent – Khast-Imam. This medieval ensemble of mosques and madrasahs, whose architectural look was formed during the XV-XX centuries, was reconstructed in its historic place in the years of independence. The Khast-Imam, according to one of the authoritative Tashkent historians "remembers everything". There you can still feel the atmosphere of the past centuries.
For those who are not familiar with Uzbek cuisine, a trip to Tashkent will be a real culinary discovery. Fragrant and crumbly Uzbek pilaf, tender and juicy kebab with rings of pickled onions, thinly sliced naryn, crispy hot cakes ... Before you know it, you will gain a couple of extra pounds.
Another nice feature of travel to Tashkent is friendly, hospitable and open people. Just say that you have come from afar, and everybody will take their sacred duty to invite you home, entertain or give something to remind you Uzbekistan. The sincere warmth is in the blood of Uzbeks and it pours like a balm for the traveler's soul.
Tashkent tours are an opportunity to gain from the trip more than you expect, it is a very special atmosphere and charm of a large Central Asian city, and it is a small discovery, a lifetime impression.