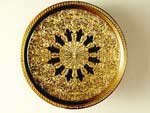 source: artmuseum.uz
In order to find out about the past and present of the capital of Uzbekistan, you need to pay visits to quite a number of museums in Tashkent: the Museum of History of Uzbekistan and the Museum of Fine Arts, the Museum of Applied Arts and the Temurids History Museum.
Also, in Tashkent, there are some very interesting profile museums such as the Natural History Museum, the Geology Museum, the Museum of the Olympic Glory, the Health Museum, the Museum of Railway Equipment (one of the most interesting museums of its kind in the world).
In addition to that the city has about a dozen of small memorial museums, which keep the memories of the lives and creative activities of outstanding figures, who lived and worked in Tashkent: the Tamara Khanum Museum, the composer Muhtrar Ashrafi Museum, the poet Gafur Gulom, the Museum of Sergey Yesenin (Yesenin came to Tashkent in 1921), the club museum of Anna Akhmatova) "Mangalochy Yard" (Anna Akhmatova lived there during the evacuation from 1941 to 1945), the museum of literature named after the poet and philosopher Alisher Navoi and other museums dedicated to artists and writers.