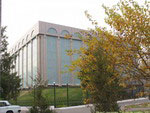 source: uzcapital.info
The State Museum of Arts of Uzbekistan was founded in 1918 on the basis of the collection once belonged to the Prince Nikolai Romanov, and was situated in his palace. Later, the collection consisting mainly of portraits and historical paintings grew significantly due to the number of sculptures, prints, bronze items, and porcelain presented as gifts to Tashkent from Moscow and Leningrad museum collections.
Starting from the 2nd half of the 1930s the Museum's collection expanded thanks to the works of Uzbek artists. In 935 the Museum found its home in the building of the People's House. In 1974 the architects I. Abdulov, A.K. Nikiforov, and S. Rosenblum constructed the new cubic-shaped museum building, in which the Museum is located now.
Today the museum features a good collection of Russian art: a collection of icons, paintings of the 18th century: the paintings by I. Nikitin, F. Rokotov, D. Levitsky, V. Borovykovsky; the paintings of the 19th century: A. Orlovsky, O. Kiprensky, L. Plakhov, B. Perov, G. Myasoedov, N. Kramskoy, N. Ge, A. Kuindzhi, I. Shishkin, I. Levitan, A. Savrasov, I. Aivazovsky, I. Repin; the Russian 20th – century avant-garde: A. Benoit, B. Kustodiev, V. Serov, K. Korovin, A. Lentulov, R. Falk, V. Kandinsky and K. Malevich.
Besides, in the museum you can see the exhibits of decorative folk art of ancient times from the 1st century BC to 1st century AD found during excavations in southern Uzbekistan. There are also fine and applied arts of Europe: Italy, Spain, Germany, the Netherlands, Flanders, Holland, France and England as well as the Orient: fine and applied arts from China, Japan, India, Iran and South Korea.
All in all, the Museum's collection includes more than 50,000 exhibits.