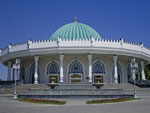 source: lifeisphoto.ru
In 1996, to mark the 660th anniversary of Amir Temur, in the center of Tashkent the Museum of the Temurids History Temurids was opened. The museum is a building in the form of an amphitheater under a blue dome. On the wall there are calligraphic inscriptions symbolizing the life's principles.
Very beautiful is interior of the museum: from the inside the dome is covered with gold leaf; 20 kilograms of the precious metal was used to complete it. Another decoration of the museum is the 8.5 m tall crystal chandelier with 106,000 crystal pendants produced by Tashkent-based factory "Onyx".
The museum exposition includes clothes and weapons from the time of Temur, jewelry, reproductions of Temur paintings, manuscript folios and the documentary footage of the sarcophagus opening made in June of 1941 in the Ghur-Emir Mausoleum. There is also a room storing the gifts from heads of states and ordinary citizens: the gold embroidery from Bukhara, the sculpture by an American artist Steven Chester Beasley etc. The Museum of the Temurids History is a member of the Board of the International Committee of Museums, which includes all of the major treasures of the world containing unique collections.