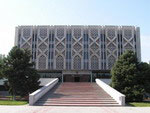 source: : photoshare.ru
The Museum of History of Uzbekistan was founded on July12, 1876 as the National Museum of Turkestan. Later it was renamed the National Museum of History of Uzbekistan and found its home in the heart of the capital. It is the oldest museum in the country that holds over 250 thousand items of archaeological, numismatic and ethnography. The museum covers the history of the region from the Stone Age until the present day. The entire collection is divided into 9 sections:
- The territory of Uzbekistan in the era of stone (1,5 million years BC – 5,000 BC)
- The territory of Uzbekistan in the Bronze Age (III - II millennium BC)
- Formation and development of statehood on the territory of Uzbekistan (I millennium BC – 4th century AD.)
- Public education on the territory of Uzbekistan in the 5th – 8th centuries AD
- Development of science and culture in the 9th – 12th centuries.
- Renaissance of the epoch of Amir Temur (14th – 15th centuries)
- Khanate of Uzbekistan in the 16th -19th centuries.
- Uzbekistan in the 19th – 20th centuries.
- Independent Uzbekistan.
Many of the exhibits of the Museum of History of Uzbekistan have a worldwide reputation – such are the state of Buddha dated the 1st century AD, which was found in Surkhandarya region and the large bronze Saxon cauldron decorated with statues of animals made in the 4th – 5th centuries BC.
The scientific library of the Museum features unique ancient volumes and thousands of books, magazines, and newspaper binders. The museum publishes historical books, monographs, collections of articles, catalogs of exhibits, albums and teaching aids for schools on the permanent basis.
The museum has a gift shop where you can buy pieces of folk art of Uzbekistan - miniatures, carpets, ceramics, and the national fabrics.