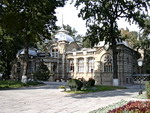 In the heart of the city one can show a very beautiful and unusual building. It was built in "Modern" style, the fashionable style of the late XIX – early XX centuries. The building was constructed in 1891 by architects Geyntselman, and AL Benoit. This is a former palace of Prince Nikolai Konstantinovich Romanov, the nephew of Alexander II and the grandson of Nicholas I, who was exiled to Turkestan and had spent his entire life here.
In Tashkent, the Grand Prince built a lining irrigation canals system in the Hungry Steppe, established a soap factory, photographic studios, billiards, started production of kvas, rice, soap and cotton textiles trade. He invested income in purchasing art objects. Later his collections of marble statues and paintings formed the basis of the Museum of Arts of Uzbekistan.
The building of the palace is decorated with openwork grilles, windows, fanciful and decorative turrets. The entrance to the "guard" dog sculptures, life-size, and on both sides of the entrance stairs, on marble pedestals are bronze deer with large antlered. In the past, at the entrance to the palace was a sculpture Atlanta, bent under the burden of the world - now the statue is also stored in the Museum of Art.
After the death of the prince in 1918, his palace was turned into a Museum of Art. Then there was the Republican Palace of Pioneers, a museum of antiques and jewelry in Uzbekistan (before 1990). And now the building is used as the Reception House Foreign Affairs of Uzbekistan, and one can admire it, unfortunately, from outside.