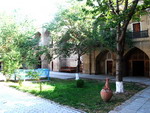 One of the most interesting historical buildings in Tashkent is a madrasah of Abdulkasym. This Madrasah was built in 1850, but popular legend states that the "first stone" of this building was laid at the beginning of XIX century. Abdulkasym Khan paid great attention to education - he paid around thirty thousand rubles for the construction of madrasah and annually paid tuition for 150 students. According to some reports, he could tell the entire Koran by heart.
In the madrasah of Abdulkasym once taught such prominent figures as: the founder of the Uzbek school of novel Abdullah Kadiri, the founder of the first university Munavvar Cory Abdurashidhonov, playwright Ghulam Zafariz and professor Abdurauf Fitrat.
Today the madrasah of Abdulkasym is a school of national crafts, where you can see with your own eyes the painters, jewelers, wood cutters and miniature painters at work and training.