Any major city, and especially a capital, has a zoo, and Tashkent is no exception. Tashkent Zoo was established in 1924 on the basis of the menagerie owned by the Art Museum, and by mid-century there were more than 200 species of animals. In 1997 the new zoo was opened near the Botanical Garden. In 1998 it became a member of EARAZA (Euro-Asian Regional Association of Zoos and Aquariums), and began to work on the expansion of species diversity. For example, from 1997 to 2004 the number of unique species of animals increased from 85 to 349 (about 3,000).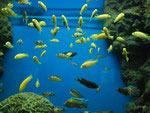 Besides that the Tashkent Zoo is breeding birds of prey such as Griffon Vulture, Black Vulture, Condor. It also provides support to regional zoos, providing them with various kinds of animals. The zoo exchanges animals and scientific information with 46 zoos from around the world.
A special feature of the zoo are the marine aqua systems created artificially, which are the home to the representatives of the underwater world: sharks, moray eels, polyps, etc.
Perhaps, there is no need to describe the entire diversity of the Tashkent Zoo – it is far better to see it once than hear about it a hundred times.